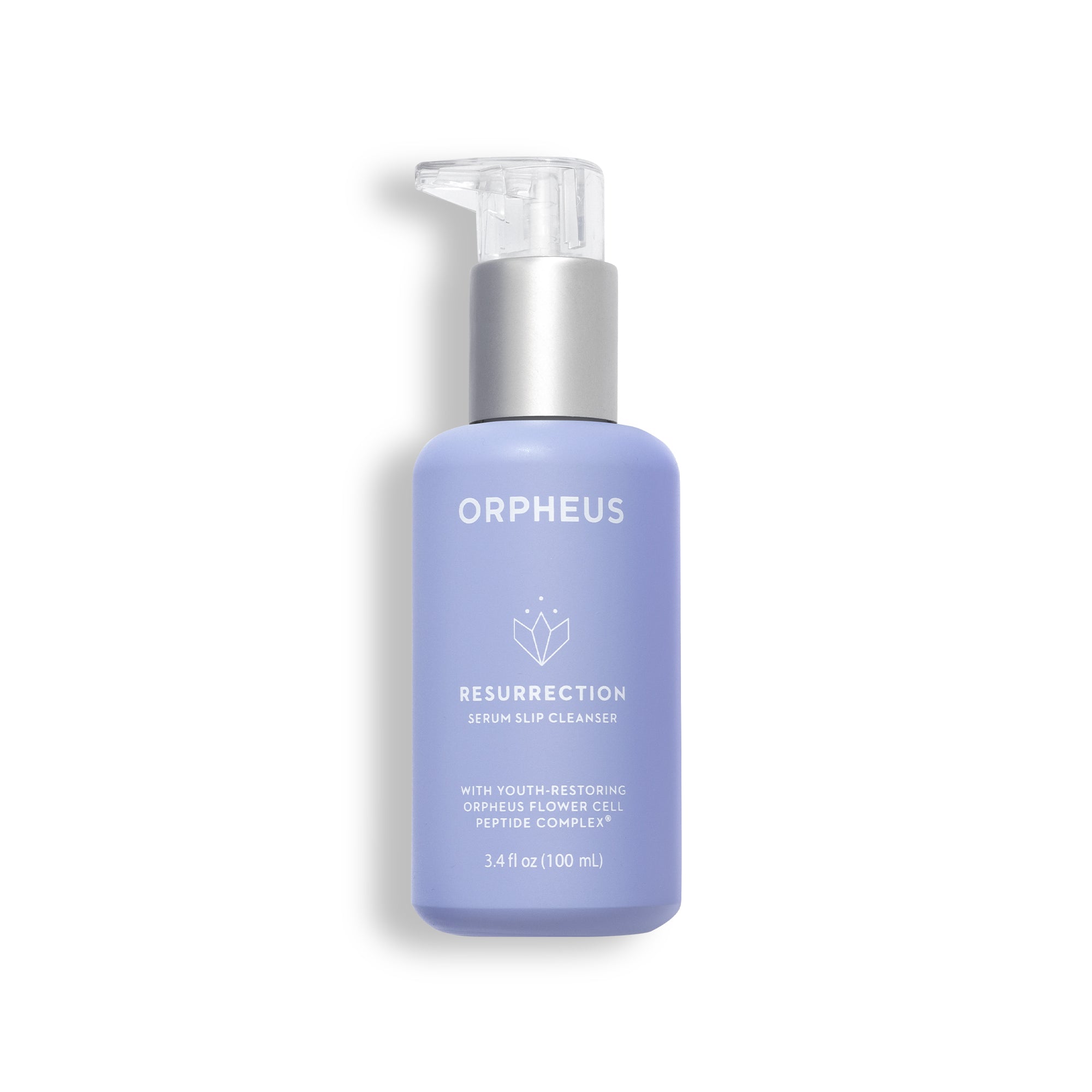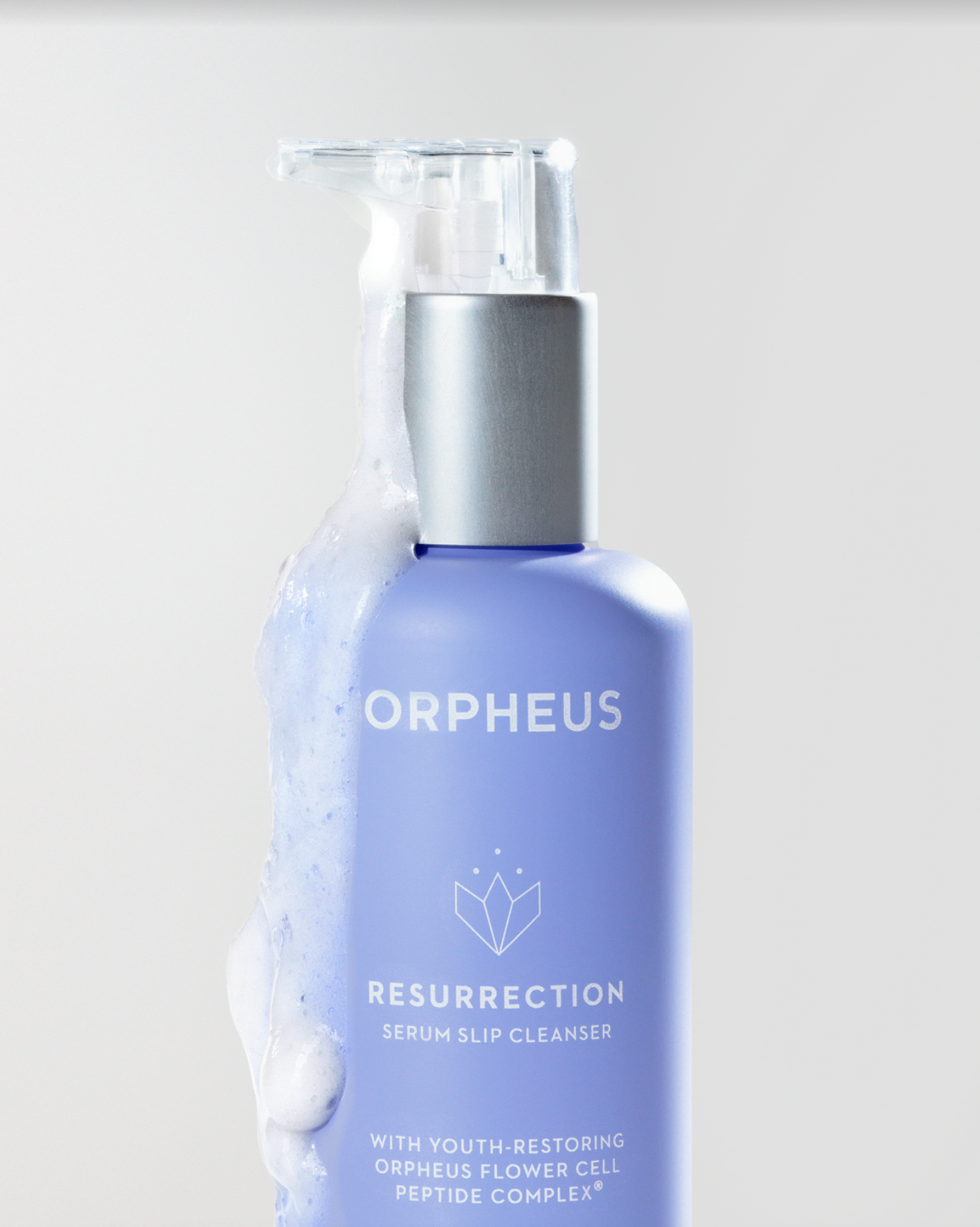 Our Quality Standards
RESURRECTION
SERUM SLIP CLEANSER
WHAT IT IS: A bioactive amino acid cleanser that does it all. This hard-working gentle cleanser detoxifies the skin as it melts away impurities, pollution, and makeup. The unique serum-like texture transforms into a velvety micro-foam that conditions, gently exfoliates, and stimulates cellular turnover for a truly flawless complexion, leaving skin brighter, plump, and hydrated after just one use.
POWERED BY: Our antioxidant rich Youth-restoring Orpheus Flower Cell Peptide Complex®, bioactive mineral complex, innovative gently-exfoliating lime pearl and snow mushroom extracts.

BEST FOR: dull, acne-prone, normal, oily skin.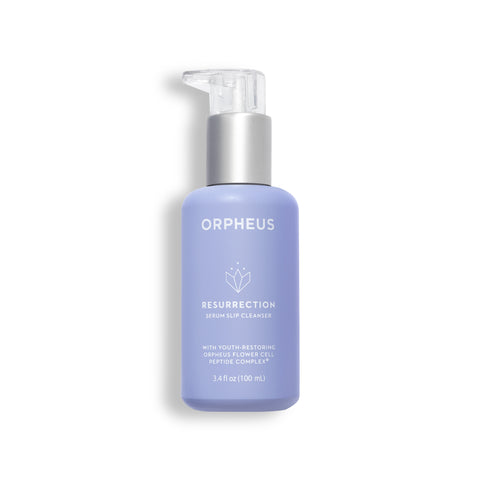 KEY BENEFITS & INGREDIENTS
Boost Collagen.
Plump. Firm.
- READ LESS
Our deep penetrating proprietary complex made of antioxidants, powerful peptides, and botanical stem cells prolongs cellular vitality and studies of cells show increased natural collagen and elastin production. Skin density and volume improves as the depth of wrinkles visibly decrease.
DUAL WEIGHT HYALURONIC ACID
+ SNOW MUSHROOM EXTRACT:
+ READ MORE
Micro & macro molecules of HA, able to hold 1000x its weight in water, are paired with Snow Mushroom extract (bacterially fermented HA with smaller particles for skin-deep penetration) and bio-organic Rose Hydrosol for intense multi-layer hydration.
SMOOTH. BRIGHTEN COMPLEXION.
VITAMIN C (ASCORBIC ACID)
+ VITAMIN B3 (NIACINAMIDE): 
+ READ MORE
Active levels of an advanced deep-penetrating form of vitamin C, paired with vitamin B3 provide powerful brightening and antioxidant activity that smooths and evens skin tone, helping with hyperpigmentation while refining natural pore size and texture.
DE-STRESS. CALM. 
STRENGTHEN.
LACTOBACILLUS PROBIOTIC-FERMENT
+ WILD INDIGO ADAPTOGEN EXTRACT:
+ READ MORE
The probiotic ferment strengthens the skin's natural defense system to maintain a healthy microbiome by forming a protective shield. Wild Indigo calms stressed skin, reduces redness by inhibiting cortisol (the stress hormone), increasing overall skin health and radiance.
HOW
TO USE
AM + PM: On damp hands, lather 1-2 pumps with water until foam becomes rich and creamy, then wash away impurities, makeup, and pollution.
PM: Apply 2-4 pumps, lather well and leave on for 5 mins to condition skin for deeper detoxification and skin exfoliation.